WHY ARE WE THE
BEST PRESSURE WASH
IN SEATTLE AND BELLINGHAM?
We use a surface cleaner!
---
One of our most asked questions. Why? Because they clean 20 inches of space at a time instead of just 1 or 2 inches with the wand. Surface cleaners blend the cleaning together instead of leaving streaks and stripes. Not only that, they cut the time of cleaning EXPONENTIALLY so we aren't at your house with a loud machine all day!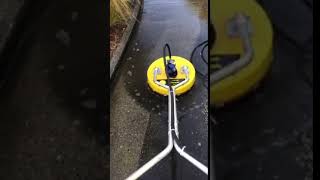 ---
We can dial down the pressure.
---
We only use the minimum amount of PSI needed to do a thorough cleaning job and be safe with the surface we are cleaning. We will never blast scars into your wood surfaces or other delicate areas of your home.
---
We use the most efficient equipment.
---
We have pressure washer that is mounted in the bed of our truck. It puts out 8 gallons per minute and 3500 PSI. We don't always use the 3500 PSI when on delicate surfaces, but the 8 gallons per minute helps us be effecient when cleaning the exterior of your home. To compare, most machines at Home Depot are around 3 gallons per minute and 2700PSI. These machines take over 4x as long to complete the same project! This wastes water and is a pain to listen to all day!
---
We care about the customer, not the $$
---
Since 2017, the pressure washing industry has grown very competitive. There are many people that recognize it is a low barrier to entry business to start. One can buy a machine from Home Depot for $600 and start cleaning. These are the same people that only work on weekends because pressure washing isn't their expertise, it is their side hustle. They want to make the most $ possible in the least amount of time because they aren't worried about their reputation, they have other income to fall back on. These businesses will always give you the lowest bid on a project and you will end up calling a legitimate copmany to come clean up after them. PNW Pressure Washing has always been in it for the long haul. We care about each customer and do a thorough cleaning and take our time so that we know we will get a referral or a recurring customer. On top of that, we stand by our work. We always offer 100% money back if you are unsatisfied with our cleaning and we have NEVER had to issue a refund.
---
We are 100% COVID safe.
---
We wear mask and gloves when we work, we have contactless payment set up and we do virtual estimates. Just text photos of your home for a quote!
---
Our customers spread the word!
---
Our number 1 source of business is word of mouth from our commercial and residential clients! We have over 100 five-star reviews across online listings. Our customers trust us to work for their family, friends and neighbors.
---
We are licensed and insured.
---
PNW Pressure Washing is licensed and insured to perform work around your home. If anything goes wrong (hasn't happened yet!), we have the insurance to cover damages. We have the technical know-how and experience to make sure everything is done properly.
---
---